Superior Quality. Superior Service.
Please click on the Product Listing tab to view prices and to order products.
Di-amino and Di-carboxy dextrans are prepared by proprietary methods that yield a primary amine or carboxyl group at each end of the dextran polymer. The molecular weight profile is essentially unchanged, as determined by analytical size exclusion chromatography. Extensive processing and testing is performed to ensure that nonpolymer reagent is removed. This approach results in a consistent product with minimal lot-to-lot variation.
These dextrans are unique to Fina Biosolutions and complement our monofunctionalized dextran polymers.
Product
Molecular Weight
Size
Price
Size
Price
Di-Amino Dextran
6 kDa
100 mg
$450
500 mg
$1500
10 kDa
100 mg
$450
500 mg
$1250
20 kDa
100 mg
$350
500 mg
$1250
40 kDa
100 mg
$350
500 mg
$1250
70 kDa
100 mg
$350
500 mg
$1250
110 kDa
100 mg
$350
500 mg
$1250
250 kDa
100 mg
$350
500 mg
$1250
500 kDa
100 mg
$350
500 mg
$1250
Di-Carboxy Dextran
6 kDa
100 mg
$450
500 mg
$1500
10 kDa
100 mg
$450
500 mg
$1250
20 kDa
100 mg
$350
500 mg
$1250
40 kDa
100 mg
$350
500 mg
$1250
70 kDa
100 mg
$350
500 mg
$1250
110 kDa
100 mg
$350
500 mg
$1250
250 kDa
100 mg
$350
500 mg
$1250
500 kDa
100 mg
$350
500 mg
$1250
Di-Fluorescein Dextran
Custom
Di-TAMRA Dextran
Custom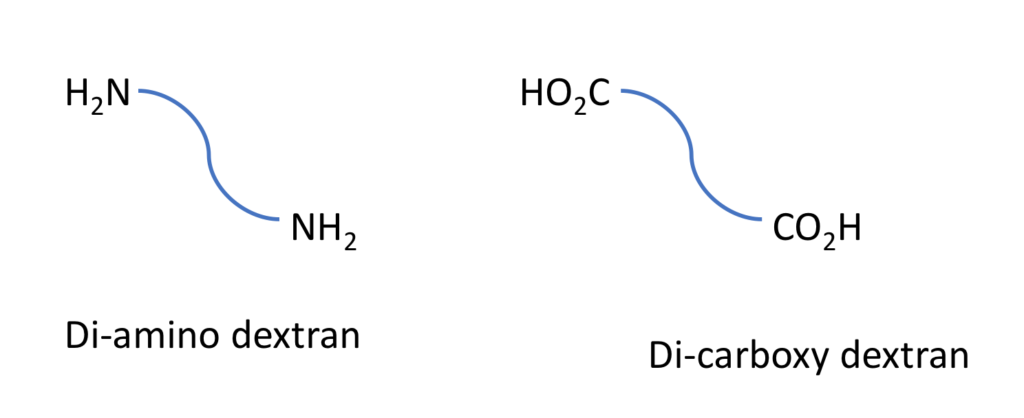 Bis-Functionalized Dextrans