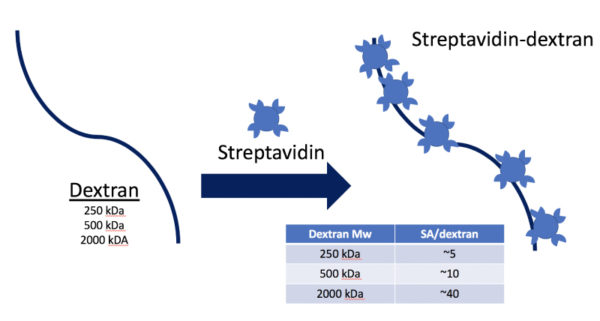 Please click on the Product Listing tab to view prices and to order products.
Streptavidin-dextran conjugates are soluble dextrans with the streptavidin covalently linked to the polymer. The product is water soluble and has strong binding affinity towards biotin. They are versatile polymers that can be used to increase the valency of biotinylated reagents.
Fina Biosolutions provides Streptavidin-dextrans with dextran backbones of 250 kDa, 500 kDa and 2000kDa. The conjugates are purified by size exclusion chromatography to remove non-conjugated molecules. Custom ratios & configurations and bulk amounts are available. Please inquire.
Specifications:
| | |
| --- | --- |
| Dextran Mw | SA/dextran |
| 250 kDa | ~5 |
| 500 kDa | ~10 |
| 2000 kDa | ~40 |
A certificate of analysis is provided with each conjugate.
Streptavidin dextran conjugates provided are in sterile PBS at 100µg/ml.
Storage Conditions: Store at 4°C. Protect from light.
| Molecular Weight | | Size (100 µg/ml) | Price | | Size (100 µg/ml) | Price |
| --- | --- | --- | --- | --- | --- | --- |
| SA-2000kDa dex high ratio | | 100 ug | $325 | | 500 ug | $1200 |
| SA-2000kDa dex low ratio | | 100 ug | $325 | | 500 ug | $1200 |
| SA-500 kDa dex high ratio | | 100 ug | $325 | | 500 ug | $1200 |
| SA-500 kDa dex low ratio | | 100 ug | $325 | | 500 ug | $1200 |
| SA-250 kDa dex high ratio | | 100 ug | $325 | | 500 ug | $1200 |